Today's Car Care Tip: Don't Rock Your Automatic Transmission When You're Stuck
If you're stuck in the mud or snow (or whatever comes your way!), don't rock your car to free yourself!

When people get mad and rock their car back and forth to free themselves, they abuse their cars.

Weak or borderline problems show up with the stress caused by trying to free your car like this.

The next time you're stuck, dig out or call a tow truck. It will be easier on your wallet.

What to do when transmission problems show up

1)Get it inspected and serviced right away

2)Watch for:
Abnormal shifting
Weird noises or clunking
New vibrations

Normal scheduled maintenance you should do:

Flush your transmission every 15,000 to 25,000 miles.

Have an ASE Certified tech test drive your car once or twice a year.
Handy Car Care Tips and Suggestions
Fluid Colors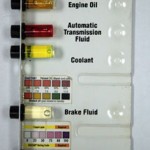 These are what your vehicle's fluids look like when they're brand new and just added to your vehicle. If they're black, smell burnt, or just past your manufacturer's recommended service interval, getting these fluids changed can prevent big expenses down the road. Click here to see the fluid chart.
Vehicle Systems
These are diagrams of how all of the integral systems in your car work. From your air conditioning, to your brakes, to your engine, use these diagrams to see how everything works, and why certain repairs and preventative maintenance services are necessary, and can save you money in the long run. Click on any picture below to see a larger diagram!