Today's Car Care Tip: How To Avoid Theft of Your Car or Contents
Don't leave a running vehicle

Park in well lit or occupied areas

Don't put stickers on the windows that tell thieves what you have inside (Stereo stickers on the windows, etc.)

Use an alarm system and TURN IT ON...most stolen cars with alarms were left turned off

Lock your doors, and close your windows and sun roofs

Take your keys with you

Use THE CLUB or LOW-JACK

Install LED or flashing alarm dummy light

Turn tires sharply before locking steering wheel

Above all, don't leave your valuables in or exposed...if a professional wants your car, almost nothing will stop him.
Handy Car Care Tips and Suggestions
Fluid Colors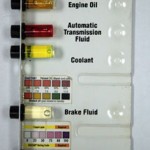 These are what your vehicle's fluids look like when they're brand new and just added to your vehicle. If they're black, smell burnt, or just past your manufacturer's recommended service interval, getting these fluids changed can prevent big expenses down the road. Click here to see the fluid chart.
Vehicle Systems
These are diagrams of how all of the integral systems in your car work. From your air conditioning, to your brakes, to your engine, use these diagrams to see how everything works, and why certain repairs and preventative maintenance services are necessary, and can save you money in the long run. Click on any picture below to see a larger diagram!