Today's Car Care Tip: Basic Training for New Drivers
Basic Training
In addition to driver's education, teach them how things work and what to expect:
Check tire pressure
Check the gas gauge
Under hood checks
Oil level
Washer fluid
Coolant bottle level
Change a flat tire
I recommend Master Drive, a defensive and hazardous driving school for helping new drivers to learn the essentials that normal Driver's Ed doesn't teach. (
Click here to visit their website
)
You should also get a complete safety inspection on your new driver's car and go over it with them. They will gain more:
Respect,
appreciation and
responsibility for taking care of the car
Finally, talk about the
What if's
...what to do when the car stops running, when they become stranded on the side of the road:
Jumper cables
Flashlight
Cell phone with all of the emergency and contact numbers
Handy Car Care Tips and Suggestions
Fluid Colors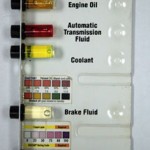 These are what your vehicle's fluids look like when they're brand new and just added to your vehicle. If they're black, smell burnt, or just past your manufacturer's recommended service interval, getting these fluids changed can prevent big expenses down the road. Click here to see the fluid chart.
Vehicle Systems
These are diagrams of how all of the integral systems in your car work. From your air conditioning, to your brakes, to your engine, use these diagrams to see how everything works, and why certain repairs and preventative maintenance services are necessary, and can save you money in the long run. Click on any picture below to see a larger diagram!