Today's Car Care Tip: Recalls: What Are They? What Do They Mean?
How do recalls happen?
They start with customer complaints to NHTSA -- the National Highway Traffic Safety Administration. The more complaints there are, the faster that they take action.
The NHTSA opens their investigation, and if they find reason to do so, they place pressure on car maker, which usually results in a voluntary recall. If the reason is serious enough, the NHTSA can also mandate a recall.
If you have a problem with your car, you can visit the NHTSA website by
clicking here
. There, you can check for recalls, check for 'Secret Recalls,' and make a formal complaint to the NHTSA.
Handy Car Care Tips and Suggestions
Fluid Colors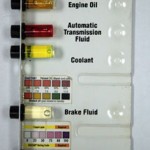 These are what your vehicle's fluids look like when they're brand new and just added to your vehicle. If they're black, smell burnt, or just past your manufacturer's recommended service interval, getting these fluids changed can prevent big expenses down the road. Click here to see the fluid chart.
Vehicle Systems
These are diagrams of how all of the integral systems in your car work. From your air conditioning, to your brakes, to your engine, use these diagrams to see how everything works, and why certain repairs and preventative maintenance services are necessary, and can save you money in the long run. Click on any picture below to see a larger diagram!