Today's Car Care Tip: Used Car Buyers Checklist
Don't Fall in love with the car before you've done your homework.
Let someone else take the depreciation hit. (2-3 yrs old is best)
Walk around the car and check paint, body panel gaps for evenness, chips, dents, etc.
Check maintenance history (any records).
Contact the previous owner (get the name from the title).
Check the fluid condition (oil and transmission fluid should be clean and clear).
Test drive the car and listen and feel for noises, vibration, and handling problems.
Go to www.nada.com and check the retail price.
Check the title history using the vin# at www.carfax.com.
If the above checks good, have a complete mechanical inspection done by an independent shop on the vehicle. Use the items that need attention on the car, to bargain with the dealer.
Handy Car Care Tips and Suggestions
Fluid Colors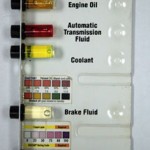 These are what your vehicle's fluids look like when they're brand new and just added to your vehicle. If they're black, smell burnt, or just past your manufacturer's recommended service interval, getting these fluids changed can prevent big expenses down the road. Click here to see the fluid chart.
Vehicle Systems
These are diagrams of how all of the integral systems in your car work. From your air conditioning, to your brakes, to your engine, use these diagrams to see how everything works, and why certain repairs and preventative maintenance services are necessary, and can save you money in the long run. Click on any picture below to see a larger diagram!