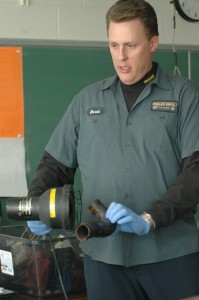 I'd like to take a moment to introduce you to some of my favorite charities:
I have a special place in my heart for teachers and great schools. I wasn't the best-behaved student, but my teachers still had patience with me, and I'll forever be in their debt.
How you can help: Schools are always putting on career days like the one I spoke at in the picture to the right. Contact a local school and ask them how you can help.
The Rocky Mountain Food Bank collects and distributes millions of pounds of food for children, seniors and families.
How you can help: at my shop (Keller Bros. Auto) there is a collection bin by the front desk if you would like to donate cans of food to the Rocky Mountain Food Bank.
The Gathering Place supports women and children who are experiencing homelessness or poverty.
How you can help: The Gathering Place has a "Card Project" that allows women to earn a living through their creativity. I buy my Christmas (and other occasion) Cards every year from The Gathering Place, which sells the cards for $1 each, and gives $0.75 of each dollar back to the women.
The Denver Rescue Mission's goal is to help the poor, needy, and homeless return to society as productive self-sufficient citizens.
How you can help: The Denver Rescue Mission is constantly in need of both donations and volunteers. You can find ways to give both your time or a donation on their website.
Suggestions?
If you know about a charity that is making a humanitarian impact in the Denver area, I'd love to know about them.